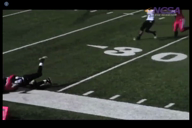 Personal Statement

I really hope I get to play football in college. My dad played at Missouri Valley College and I want to follow in his footsteps.

Starting out freshman year, I really didn't know what I was going to do with my football career. I went out for running back, and it just came natural to me. From that point forward, I have dedicated myself! I am determined to be the best at what I do.

Now that I am a senior, this is my last chance and give it all i have.

I hope you will watch my film and highlights, thank you for reading!