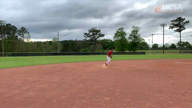 Personal Statement
Since I began playing baseball, I have always had a love for the game. I have aspired to play this game at the collegiate level. Playing baseball in college has always been a goal of mine.
I am a team captain and try to lead by example. I do this by encouraging teammates, being coachable, and by being hard working and always wanting to improve my game.
In the classroom, I also push myself to always improve. I study to maintain a high GPA.  I also volunteer at community events.                  
I want to attend a college where I can continue my education as well as my athletics. I am open to all options and want to find a college that best fits me.