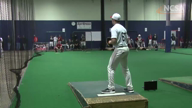 Personal Statement
 Baseball has been part of my life for the past 12 years.  There have been so many amazing moments in my baseball career.  At 12 my baseball team and I came in 2nd in Cooperstown Village.  There were over 100 teams there that week.  As a sophomore in I had the privilege to be the starter center field on my high school varsity baseball team.  We came in 2nd in Illinois 4A that year, a school breaking record.  That same summer, my travel team and I came in third in Perfect Game National Championship in Ft. Myers.   
I am the oldest of four boys and I have learned what it means to be a leader.  I feel that being the oldest brother has taught me how to challenge myself to do more than most.   I want to teach them that they can do anything they want if they put their minds to it and work hard.  I have had many influential people in my life, and I want to be able to be that for my brothers. 
My collegiate goals and aspirations are to play baseball as I study business and/or management. 
There are many reasons I would make a great candidate for your baseball team. I am teachable;  full of sportsmanship, excellence, and gratitude in all I do on and off the field; motivated to improve; a team player; and very respectful.
For the same reason that would make me a great candidate for your team are the same reasons that make me different from most other recruits.  I have been described as humble, a leader, with a passion for the sport of baseball.  I am an honor roll student and like to volunteer my time to helping coach baseball to younger players and help at my local church. 
I hope you will consider me for your team. 
Thank you for your time and consideration,
Jeff Morton