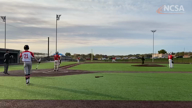 Personal Statement
My goal at the college level is not only to have a successful baseball career but also to achieve academically to set myself up for the next phase of life.
I am a good candidate for the team because I care about what's best for my team. I will come to practice ready to work hard and compete. I care about my education just as much as I care about my family and baseball. I keep an open mind to what is being told of me and or asked of me and actively listen to the person talking to me. 
There are three things that set me apart from the crowd. First, I am open to filling any role the team needs, either catching, playing corner outfield, or coming off the bench. Second, I am always thinking one step ahead and letting everyone know what's going for the next play. Third, I have a leadership mentality even though I've been one of the youngest players in my three seasons of high school baseball so far.