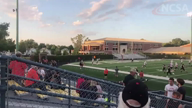 Personal Statement
My name is Andrew Parsell and I am in the Class of 2022 at Van Buren High School located in Van Buren, Ohio. I am a student-athlete pursing interest as a football kicker/punter at the next level.
I am the starting kicker for Van Buren Black Knights Varsity football team. Our team is currently 4-2 and we are super excited as we host an upcoming playoff game during this Covid-19 season. With at least four games remaining, we have team goals still to accomplish. As a player, I have personal goals to help our team win.
Recently I was honored as the 2nd Team Kicker for Blanchard Valley Conference (BVC).  Of all the kickers in the BVC, I was a leader in Total Points, PAT percentages, Field Goals Total, Field Goal Accuracy, and Longest Field Goal (42 yards). The 42-yard field goal was in the fourth quarter, we were down by seven (7) points, against our rival and we had to make it to have a chance to win the game. It was important to me as it showed our coaches believe in my talent and it has given our FG unit the confidence to continue to work hard and be ready to help our team win.
I am an competitive athlete who was a soccer player for over ten (10) years prior to being introduced to football in 2018. As a Freshman (2018), I was a dual-sport athlete playing (not starting) both on the Varsity Football and Varsity Soccer teams. In 2019, I earned the starting kicker position and had a good season (19 of 20 PAT's, 2 of 3 FG's). 
To benefit my athletic training and nutrition, I joined the Van Buren Varsity Track team in 2021 and quickly became an asset to the team's success.  I am now a state qualifying track athlete in two events:  the 300m hurdles and I also anchored the 4x200 relay.   I love training and improving and I am genuinely looking forward to the spring of 2022 at the OHSAA Track and Field Finals.
I have worked very hard in the football off-season on my strength, flexibility, and technical approach to improve my punting and kicking distance and accuracy.  I believe with my continued hard work and now working one-on-one with an ex-NFL kicker/punter, I will continue to progress in my development to add value to my high school team and at the next level.
Thank you for the opportunity to share my story. I appreciate your interest in my journey, please contact me at [email protected] if you have any questions.