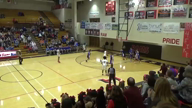 Personal Statement
I am a 6'6 210-pound student at Hillcrest High School. I am currently a forward on the basketball team, however I am open to other positions if it would contribute to the successes of my college team. I am a good team player, and my goal is to always improve everyday both as an athlete and person.
I have a good track record for success. During my time in middle school, I helped lead my team to their first district championship in over a decade. In that championship game, I scored 19 points and 11 rebounds to help my team get the victory.  In my freshman year at Hillcrest High school I made the varsity, and I am currently ranked #8 in South Carolina for the class of 2020.
In college my goal will be to stay dedicated and work hard to compete at a high level. I want to make a difference and contribute to the success of my team, and continue to grow as a person as well.