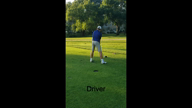 Personal Statement
My name is Ben Slicker.  I appreciate you taking the time to read through my profile.  I have played competitive golf since I was five and love competition! I pride myself on being honest, hard-working, and optimistic.  The game of golf has provided me a ton of opportunities & has taught me a lot about myself - so golf has grown into a passion for me.
My 2021 Summer schedule has allowed me the opportunity to play with some great players & travel to several fantastic courses.  I am fortunate to be able to play golf and appreciate my parents for allowing me the chance to compete in a game I love.  My goals are to find a college environment that will challenge me academically, provide me the opportunity to better my golf skills while competing at a higher level, and continue to improve each day with every aspect of my life.
I also play competitive basketball and feel that my athletic/basketball background has helped me differentiate myself from other golfers and one-sport athletes.  Being undersized in basketball, I have always had the mentality that I will outwork everyone to achieve success.  The athletic transition of showing my grit, selflessness, and willingness to outwork the competition in basketball mimics the same type of tenacity, work ethic, and willingness to learn that I will bring to a college golf program.  
Lastly, in an individual sport like golf where the team aspect is somewhat diminished, I pride myself on being a great teammate and focusing on leading by example to facilitate the team's success.  Regardless of golf's individualized traits, one of my top objectives at the next level is to facilitate solid, lifelong relationships with my teammates, coaches, professors, and school administrators.
If you have interest in my background, I look forward to hearing from you and discussing your program at your convenience.