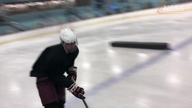 Personal Statement
It is difficult to pinpoint one singular moment that has influenced my life or who I am.  A combination of my parents' encouragement, a love for the game hockey, and the expectation to become more responsible for myself the older I get all are huge influences on me.  Although I started Learn to Skate and Hockey at four years old, it wasn't until I was seven that I started to enjoy the game. I started to better understand the game and saw myself improving, so I was hooked.  
Playing hockey has taught me that I am stronger, both physically and mentally, than I believed myself to be.  I have also learned that I am determined and persistent, which has proven to be assets. As a Freshman, starting a new school (Charter school), I focused last school year on improving my time management skills and improve my grades.  I am proud of my success in both areas, but I also know that both continue to require attention and effort. The past year came with a few curveballs. I was excited to make the JV hockey team as a defenseman. However, only two games into the season, Coach moved me to winger.  This sudden change in position really challenged me positionally, including puck movement and the need for quick feet. I have learned that being 'coached' requires readiness to listen, adapt and embrace change. I am willing to listen and see things from other perspectives, not just in hockey, but also other aspects in life.  In order to see another perspective of the game as well as earn some money, I have become a Level 2 Referee.   
Speaking of curveballs, life is full of them.  These curveballs have shaped my character and made me resilient.  Entering for Sophomore year, I had prepared off-ice to make the Varsity team.  The night before tryouts, I learned the high school would not honor a state waiver allowing me to play at that school.  My sophomore hockey season was cut to a Midget short-season without a full season team to play.  It took the wind from my sails, but I kept training and found a team who allowed me to practice with them in order to keep my skills fresh and challenge me with new ones.  Knowing the state waiver would not be possibility, as it was during my freshman year, I entered my Junior year with a plan.  I planned to tryout for a full season team to ensure continued growth as a player and expand opportunities to improve.  And now enters the curveball the whole country is dealing with-COVID 19 pandemic.  Tryouts were postponed, didn't happen or happened via past year's video clips.  I have found myself in a similar situation with a short season team and no clear plan for the full year.  So I continue to do daily off-ice training and skating whenever the state restrictions allow.
I am interested in college, but am considering the opportunities that Junior Hockey offer.  I would be a great addition to a team looking for a player that is adaptable, determined and coachable.  I take academics seriously and I love the game of hockey.