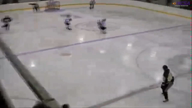 Personal Statement
Hockey will always have a place in my heart, but more importantly, it is the link to the ultimate goal of finding a hockey program at a school that can give me a quality education. I am still somewhat undecided on my career choice so it would be important to find a college that guides me to a choice that aligns with my interests in Business,Natural Resources,or Athletics.The type of college that interests me would be one that challenges me on and off the ice.
I feel that I would be a good candidate for any team because I am a leader, a defensive wall to any forward in my path, a team play-maker who not only likes to score but sets up the play for others to succeed. It is important for me to play with others who want to succeed as a "Team" and in turn develop my skills as a part of that Team. I can adapt to any coaching direction in a forward or defensive position on the ice as I am confident and have a "never give up" attitude.I have no fear of taking the puck all the way to the net if the situation calls for it. These qualities separate me from other hockey players as not everyone can be a leader or an aggressive play-maker on the ice. I want to take my confidence on the ice and apply it more strongly in the classroom in college. I know I am challenged in the classroom in some subjects and I plan to take full advantage of tutors and teacher assistant sessions while in college. I want to make a solid career choice that motivates me as much as hockey has and allows me to take focused classes of interest once I have completed the general requirements.I did not have the opportunity for paid tutors or consistent support groups in High School.
Overall, hockey has helped me to develop my character as a determined, strong-minded, hard working, honest team player. I know that many classes in college support team work and I look forward to being a leader in those classes and others. With the right opportunity, I can make a difference to a team as well as a college and the community where that college is located.
I want to sincerely thank you for your consideration.
Jake Rushlow