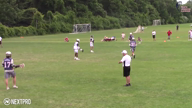 Personal Statement
My name is Reid Moore. I am from the Dallas, TX area but I attend The Kiski School in Saltsburg, PA where I am a defender/LSM on the lacrosse team. I was introduced to lacrosse at a very young age. After watching my dad coach my brother and watching him play lacrosse with all his friends, I knew that lacrosse was what I wanted to play. Coming from a place where lacrosse is not a well known sport as football has helped me strive to be better than the competition and prove people wrong. As a freshman, I played alongside many inspiring players and seniors that made a run for the state championship. I was asked to play attack because of my stick skills which was disappointing since I am a true defender. The team leaders helped me understand this was to help the team which pushed me to play attack the best I could. They helped me set goals for myself in order to get better as a player and a person. For the second half of my Freshman season, I led the JV and Varsity teams in assists.
During my sophomore year, I was given the opportunity to play for a school that would better help me as a student athlete to achieve my dream. I began to grow as a player and worked hard to accomplish my goals. This allowed me to grow and take one step closer to achieving my dream of playing lacrosse in college. Lacrosse has taught me many life goals such as perseverance and determination that helped me overcome challenges in life on and off the field. It was at this time, I went through a traumatic injury that kept me sidelined for a year. I learned that instead of giving up and having a good mindset and never giving up on my dreams helped me to recover be ready to get back on the field. I pride myself on wanting to be the best player on the field and as a student of the game. I strive to be the best person on the field and in the classroom in order to set an example for my peers.
I am looking for a college program that will be the best fit for me academically and as well as athletically. I know I have the talent, knowledge, leadership skills, competitiveness and work ethic to make an impact on a lacrosse program which I am part of.