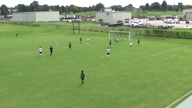 Personal Statement
Playing soccer at a collegiate level has been my personal goal for several years.  I have loved the sport of soccer for longer than I can remember.   At an early age, I strove to be the best player on the field and help all the teams that I joined.   With guidance from coaches and support from teammates, I have achieved many goals.  However, it has not always been easy for me.   After playing travel soccer for two years with the Jaguars in Novi, Michigan, my family was relocated to Indiana.  Leaving my school and travel team was a challenging experience.  I had to learn to overcome my fears of the unknown with school, new friends and a new team.  Through it all, soccer was the one consistent thing in my life.  I quickly adapted to my new surroundings and things fell into place.
As a player, I have used my personal experiences and challenges to help me make smart choices on and off the field.  No matter the challenge, a good work ethic and positive attitude will produce great outcomes.   I personally have a strong work ethic and drive to be fit and strong. If I do not have a scheduled team practice, I work on strength training at my local gym, build my skills by going to a field to juggle and strike or play other sports to build endurance.  I enjoy playing basketball with friends and have incorporated basketball's famous "hezi" into my skills-set.  As a wing player, I use my speed to take the ball down the field and fake out my opponent at the last minute.  As I maneuver around the player, I quickly assess to see if I can strike or cross the ball. Without a doubt, it is my favorite move.  Currently, I am one of the top scoring players on my travel team.  While scoring makes me excited, I get the same rush passing the ball to one of my teammates for an assist. There is no better feeling in sharing that moment with another player.   If I don't have an opportunity to score, I am actively working the field to defend or complete a clean pass to a teammate. Teamwork and positive team culture is most important to me.
As I look forward, I feel it is important to find a program that fits my goals and aspirations.  I have a high level of motivation.  Never give up! I don't like the thought of losing, but there is always a lesson to be learned and challenge to overcome.  I am always looking for ways to improve my skills and welcome critiques from my coaches.  I prefer a coach that supports and respects me, but also gives me clear direction on areas of improvement.  With my work ethic, it is important that I find a coach and staff that will push me to the limit.  I want to work hard and become better every day of my life.  Further, the team that I join would need the same standards.  While I want encouragement and direction from fellow players, I ultimately want the coaching staff to take the lead.
I feel excited to begin my collegiate journey.  As I reflect on what I am looking for in a team and college, it is easy to see the similarities.  The school must fit my personality and have the right feel.  I want a full college experience, from broad class selections in my fields of interest to outside activities on campus.  As I grow as a student, I want to be surrounded by positive influences, which would include my coaches, professors, teammates and classmates.  My personal preference is to be active and involved, so a campus with a range of extra-curricular activities would be ideal.  The size of the university is unclear at this time, but I am focused on finding the right match.  I look forward to my new endeavors as a student athlete.