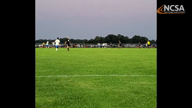 Personal Statement
  Recent Update as of 9/21/2021!!!  I still have high aspirations of playing at the collegiate level.  I would love to complete my degree and play this game I have played since the age of 4.  If there was one word that I had to choose about what makes me different from the other recruits it would be Passion.  My passion comes from my heart.  I feel that whatever college I choose to attend, I would be a positive influence and great player.  
A little about our high school season as of today.  We started our season 0-6 and competed against several top tier teams in our state.  The past 5 games we have went 4-0-1.  Since I was moved to striker I have had 6 goals and 5 assists.  Last night we beat a very good team that was ranked #16 in our state in class 2A.  I feel we are starting to come together and look forward to our state tournament.
Academically, I know I can do better, as of now my GPA is a 3.1.  
If there are any questions and interests, please contact me.  I would love to talk with you.  Have a wonderful day!
Nolan Kessler Class of 2022