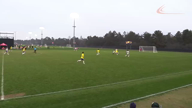 Personal Statement
I am a player that does not like to lose. I will work hard every practice and game to both improve my game as well as those around me. I am not quiet on the field either. I love the game and play with a passion.   
I was invited into a trip of a lifetime to visit and train at the Tottenham Hotspurs Academy in the U.K. back in April 2017. The experience was special and I learned so much from it. I was lucky enough to be coached by the Academy's coaches that provided great advice and tips on how to improve the way I play. The level of competition was challenging. The academies we played against were very disciplined and technical. Touring London is something I will also never forget. The country was unique and different. 
And not too long ago, during the summer of 2018, i was able to be a part of another special trip internationally. My club team, Brausa United Futebol Club, funded a trip to visit the city of Bahia in Brazil and participate in a few matches with local teams around the area. The level of competition was unbelievable to witness. The academies of Vitoria and Palmeiras, as well as the local club team,  Jacupiense, possessed qualities such as very strong possession, discipline defensively, and aggressive and rough personality in their play. I was very grateful and thankful for such a trip that many do not get the opportunity to participate in. The games there certainly gave me much more wisdom on the sport and i will undoubtedly use that experience during my club and high school games in the U.S. Since this trip, I've seen changes within my own game.The quickness of play increased, I've developed an aggressive character during the game, and my leadership can clearly be noticed. And my love for the game only increases with each practice and game i play in.