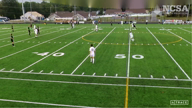 Personal Statement
My name is Jackson Griffiths-Hill. I am a senior at Saint Louis University High School in St. Louis, MO. 
I have been playing soccer at the select level since I was six years old, so soccer is and always will be a huge part of my life. Over the years, I've experienced several different coaches, styles of coaching, tactical systems, various teammates with different personalities, and played just about every position but goalie. In recent years, I've focused on developing my skills on defense and have played center back for my club team and outside back for my high varsity high school team. I've always had the speed to close on forwards and the physical strength and balance to contain them. However, in recent years, my focus year-round has been to develop my vision of the field and how to make the right tactical decisions and execute passes that get the offense started quickly from the back. 
I've also realized that whatever position I'm in, I can play a key role bringing my teammates together and keep them focused on the team goals. I certainly am driven to set high goals for myself and work tirelessly to achieve them, but I think my greatest strength may be helping others see their capacity to grow and succeed on the field and off. 
Another big goal of mine this year is to make sure my team is united and prepared mentally for the challenges we'll face. We have to have each other's backs. My team (which has a lot of the same players this year) reached the rank of 19th in the nation last year. However, in our run for the state championship, we lost to a team we should have beaten. Our weakness was in our expectation that one or two players might be able to carry the load. When they didn't put in the effort, the team wasn't prepared to pick them up. This year, I want to make sure every player knows it's their responsibility to show up for each other.
I've learned a lot about soccer and myself over the years. I'm looking forward to playing this final year of high school soccer, but I'm also hoping to continue my career at the college level. I know with the right coach and team, I have room to grow and reach new levels of success.