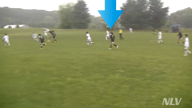 Personal Statement
Hello, my name is Vance Yanney and I am a committed student athlete who loves the game of soccer. I am a 6 time Olympic Development Program (ODP) Selection and also one of the top students in my school. In 2021, my team won the U16 NPL National Championship. Currently, my club team plays in both the ECNL and the USYS P.R.O. League. Academically, I am enrolled in five honors classes this year, including Calculus BC Honors as a junior, which is a senior level course.
As someone of South American descent, soccer means much more to me than just a game. It is something I plan on playing and being around for the rest of my life. It would be a dream of mine to play soccer at the collegiate level. 
Please contact me if you have any questions.
Sincerely,
Vance Yanney