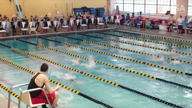 Personal Statement
I am a sprinter and butterflyer from New York City, where I attend NYC Lab High School, class of 2021, and swim for Matchpoint NYC. Currently, I am the team captain, having started in Junior year of high school and continuing in my senior year. I started competing at the age of twelve under the guidance of my Olympian coach, Konstantin Petrov. As a newcomer to the world of swimming, it was evident that there were many struggles ahead of my career, but I was always a stubborn kid, unwilling to give up until I perfected it. My attitude was what propelled me forward and kept me aloft from all other swimmers. My body and spirit refuses to back down and have much more to give!     
The greatest achievement and highlight of my high school freshman career was being a finalist at Speedo Sectionals. Although it may have been my best achievement yet, it did not stop me from moving forward and reaching another level. In my sophomore year, I placed first at Eastern Zones for the 100 butterfly finals, what's more, I made the cut for Futures at the same time! If it weren't for COVID-19, I would've competed at Future this year and broke my record again.
Though I have heavily invested my time into my swimming career, it does not hinder my academic side in high school.  I've maintained high marks since I was a freshman and I don't plan to stop in my senior year of high school. This year, I am going to pass with high marks and attend a college that strengthens my mind and body. As I ascend to undergraduate school, I'm going to maintain high grades and pursue a bachelor's degree of science in nursing. As captain of my swim team, I possess the skills to lead and inspire my teammates to improve upon their performance. I plan to take these unique skills with me in college so I can maximize my personal performance and the teammates I have to support me. I really hope to find a coach that could lead me to the next level and make me shine brighter in my college years!