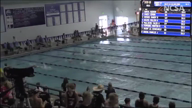 Personal Statement
I have been swimming competitively since the age of eleven and this will be my 8th season.  I currently swim with Club Kickstart in Durham, NC as part of the Elite team. We typically swim up to 6 times per week, for an average of 20,000 to 30,000 yards per week with 3-5 dryland sessions. Swimming has become an integral part of my life and I would love to continue the amazing opportunities I have had for teamwork, friendship, and competition.  I have been deaf since birth and currently have cochlear implants.  Swimming has made me adapt to understanding the direction from my coaches by reading lips and understanding the signs of what they are trying to tell me even when I can't hear them.  Ironically a previous coach often referred to me as his best listener on the team.
I would describe myself as a well-rounded swimmer with a strong technical base and regularly train all four strokes.   My greatest strengths are my versatility in freestyle from sprint to distance; backstroke and fly.  Prior to the COVID outbreak, I had begun to focus training on improving my performance in the Individual Medley.  
One of my proudest swimming moments was being selected to represent the United States as a member of the USA Deaf Swim Team at the 5th World Deaf Swimming Championships in São Paulo, Brazil in August 2019. Our team consisted 14 athletes, 5 males and 9 females.  Due to limited number of male swimmers, our coaches challenged each of us to be prepared to possibly swim in more daily events than we are used to swimming. As a result, I swam eleven prelim events and 10 final events, including men's and mixed relays, over the six-day championships. I was humble to be swimming among the world's best deaf athletes but also proud of my performance achieving personal best times through the last event.  During the 800 Free final, I broke the USA Deaf swim record established in 2007. The 5th World Championships can be found at the following link: https://www.youtube.com/results?search_query=icsd+world+swimming+championships)
As I enter my senior year at the Durham School for the Arts, I am excited about what the future will bring.  I appreciate you taking time to view my profile and hope to hear from you in the future.