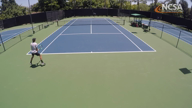 Personal Statement
I was closing in on an amazing freshman year of tennis when I suffered a knee injury that has forced me off the court until 2020.  This is a major disappointment for me.  I had surgery in September 2019 and I am working hard at physical therapy and am extremely motivated to get back on court and start competing again.
I've always loved being involved in sports, and besides my passion for tennis, I played high level competitive soccer.  When I was 12, I decided to dedicate all my effort to competitive tennis.  For the last 4 years I have competed nationally with my favorite events being the team competitions, and those are the situations where I have played my best tennis. I love tennis and traveling to national tournaments to compete, but I think my favorite experience so far was winning the Utah high school state championship in front of hundreds of people and then cheering for my teammates as our school won our first state championship in more than a decade.
This year I decided to play high school football because I believed that the weight training and speed work would be great for my tennis.  I was training harder than ever on and off the court, and I was getting stronger and faster every day.  My goal for 2019 was to have my best performance at Kalamazoo.  Unfortunately, I tore my ACL during football training in the summer which required surgery.  This has hurt me alot. 
Recovery from an ACL injury takes time and I'm focused at getting back to 100%.  I won't be back on court until early 2020 but I am working hard at physical therapy and supplementing this with gym workouts and activities like swimming, which keep me in physical shape.  I'm also watching a lot of tennis, working on my mental game and have started shadow swings while seated to maintain muscle memory.  I want to be playing tournaments again by spring or early summer 2020.  My long term athletic goal is to play high-level collegiate tennis.  I'm an extremely competitive athlete with a deep passion for tennis.  I believe I could be a great asset to any team.