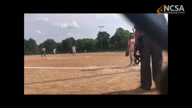 Personal Statement
My name is Kristyn Gardner and I'm from Perryville, Maryland. Currently, I am in my 7th year playing with the Maryland Legends 18U, now associated with Lady Dukes, out of Rising Sun, Maryland. I consider myself a solid addition to the team, primarily as catcher, but also outfield. I exhibit leadership and respect, and pride myself on being a team player.  My goal every time I step on the field is to give 110% to my team and the game.
I am a Junior at Perryville High School.  My GPA is 3.968 and just as I do on the softball field, I give 110% to my studies and aim to maintain or improve my GPA.  Over the last 2 school years I have played on the high school softball (starting varsity catcher both years) and volleyball (JV and varsity) teams. 
Part of being a Legend is giving back to the organization and the community, as such, I volunteer along with my parents and sister at the Perryville Fire Company and Perryville American Legion with fundraising efforts.  I also mentor younger players from our little league organization and the Legends teams. 
Thank you for your time and for reviewing my profile.
Kristyn Gardner