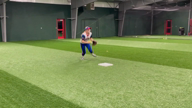 Personal Statement
My name is Kinzey Woody and I am 14 years old. I have a very active family that loves and enjoys sports. This is where it all started for me. My family and I would go outside play a lot of different sports mostly wiffleball and basketball. I have played basketball competitively, however, softball is my passion. My parents have and continue to help me with my journey to make my dream come true of playing college softball. Although, they expect me to "do the work"! I have been playing softball since I was 5. However, I did try to get on the field and play when I was 3 because my sister was playing, mom and dad had a hard time keeping me off the field, and still do. Joe Bunch who is one of my coaches now, told me that I needed to be challenged and I needed to play travel ball. I  starting playing travel ball at age 9.
 Playing travel softball has taught me many things. One thing it has taught me is how to be an athlete and a good student. Another is how hard I need to work. I have to work hard all the time to improve all parts my game. Lastly, I have work at the mental part of the game. All of the challenges I have faced during travel softball has made me learn to set goals and turn my failures into success. For me this means work harder on the skills I have not yet achieved and keep improving on the ones I have achieved. I set high standards for myself on the softball field as well as in the classroom. My parents being educators have taught me that being a student comes first, I have learned this from a very young age. I want to be a coach and share my love of the game and help someone else achieve their goals.
Academically, I set high standards for myself. I have been in the gifted program since first grade and have been a part of the knowledge bowl team, and been on the A honor roll in elementary and middle school. I will work hard to keep this work ethic during high school and into college to become a coach or work in the medical field.
 Athletically, playing on a competitive team has provided me with the opportunity to be a leader. My teammates and coaches look for me to lead my team by example, but also by directing my team on what we should be doing on each play. My coaches and teammates have high expectations of me and this pushes me to step up in practice and on game day to be the best I can be. I also have high expectations of my team as well. I lead in other ways not just by skills or communication, but by being a good teammate and supporting and encouraging them to do their best and to work hard and be accountable for our work ethic as a team and individual. My teammates know I will always have their back and pick them up.
I know I have more to learn and grow as a player and leader. I realize I have to work hard at home on my own when I don't have practice. I have to work on my skills, conditioning, and education. I realize this will be a challenging journey, but one I continue to push through until I accomplish my goals. I have already learned that there are people who want me to fail, but that is not an option. I use this to my advantage, to work harder and be more determined, it "fuels my fire"!
In my college search, I am looking for the best fit for both my athletic and academic needs. Athletically, I am looking for a program that high expectations for me and my team. I want to have teammates that will hold each other accountable to reach our goals as a team. Academically, it is my plan to graduate and be ready to start my career.