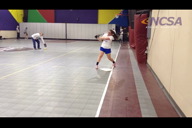 Personal Statement
I started playing softball when I was 5 years old and knew then that I wanted to play at the collegiate level. I understand that it is a huge commitment and would be honored to get the opportunity to be one of the few players who get to say they played college softball. 
I am highly self-motivated both in the classroom and on the field. I am a perfectionist and do not settle for mediocre.  My coaches know that in any situation, they can count on me to play whatever position is needed.  I am a hard worker and can handle a heavy academic load while staying dedicated to athletics.
Aside from softball, I am also active in Key Club and Youth Connections. Both are clubs offered at my high school. Key Club involves community service activities where we team up with another community based club, Kiwanis. Youth Connections is a mentoring program that allows high school students to be a friend to and mentor elementary school students.  I have a passion for bettering my community. Volunteering for community service projects and being that "hero" to younger students is extremely rewarding.