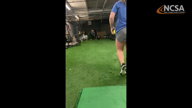 Personal Statement
   Hi, my name is Kylie Ballentine. I am an 9th grade student from South Gibson County High School looking for an opportunity to continue my softball career at the collegiate level, and to study in the medical field. While pursuing my softball career I have always maintained high grades in school. Grades are extremely important to me, and I continue to work on them while also working on my softball career. 
   I enjoy being apart of a good team environment, and being pushed to my greatest ability. I enjoy playing under pressure, and I remain level-headed at all times. I am a very serious player as well, I take every aspect of the game in a serious way and it is all very important to me. 
   I believe I would be a good candidate for a collegiate team because I bring many things to the table. I believe being a pitcher who can hit and play the field is beneficial to any team, because I can contribute in many ways.