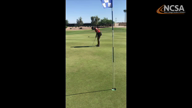 Personal Statement
Hi, I am Abigale Morris.  My college golf goal is to maximize my talent through hard work and competitive college golf to help my team win. My academic college goal is to achieve a Bachelor Degree in Communications/Public Relations and Media/Film and Video.   I am a great candidate for college golf because of I love the team environment and I like to encourage others to succeed.  I have a strong work ethic to improve and my goal is excellence in all that I do.  
My faith as a christian is very important and is the foundation of my current and future successes.  Academically I possess a 4.67 GPA while taking AP courses and recently received my academic letter. I am 2020  National Honor Society inductee, one of the first inductees in my high schools history.  Currently I serve in the CVHS Interact Club as their Vice President, serve as a volunteer at my church (I like being the camera person), and participating in other opportunities giving back to my community.  
Here my golf accolades:  
2018-2019 JGAA & Antigua Tour Tournament Accolades:  Western States Junior Golf Association (WSGA): 38th Annual Alan Bennett Golf Championship, 3rd place finish (13-14 age group); Southwest Antigua Tour:  2018- 2nd place finished in the SW PGA Antigua Tour 36 hole championship;  JGAA (36 hole Tournaments): 2019 JGAA Most Improved Award -Girls; Decreased tournament average by 18 Strokes (102.79 to 84.83), Top Finishes=7, Top 5 finishes: 1, Low round:  77, Best 36 hole score 161.
2018-2019 High School Tournament Information:  9 hole scoring average is +3, 18 hole scoring average 76.8, low round 68,  finished 5th in 36 hole event with 36 hole score of 140, Qualified for Arizona High School State Championship ranked #7 in Division II, 36 hole score of 165 (86 & 79) to finish 29th of 88 participants in my first Arizona High School State Competition.  Led school to first district championship winning the playoff hole.  Finished 2019 ranked #87, Girls,  in Arizona; ranked #2790 Overall on JGS, Scoring differential 11.84 in JGS.
2020-2021 Tournament (JGAA & Antigua Tour) Accolades: First Win!! Tucson Conquistador Junior Golf Championship winner (76, 80), 13 strokes better than previous year; Prescott City Junior Championship runner up (80, 74), 14 strokes better than previous year; Low score of the year 74; FCG Tour (36 hole Tournament):  Improved 36 hole tournament previous event score by 37 strokes in only 2 events, best 36 hole round is 165 (85, 80); Decreased tournament scoring average by 5.18 strokes, 84.83 to 79.65;  2020 ranked #60 in Arizona, up from 87,  2020 ranked #1627, up from 2790.