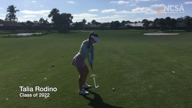 Personal Statement
For as long as I can remember, golf has been my passion. Since the age of four years old, when my father first brought me to the driving range, I discovered my talent as a golf athlete. Throughout the years I have learned the importance of patience, acceptance, self-confidence, determination, and perseverance.
In addition most of my life I was a dancer as well. Participating in a team oriented sport allowed me to learn at a very young age how to work together as a part of a team and communicate well with others. Being a part of my middle and high school golf teams has also brought out a sense of leadership that has helped me excel not only in golf but in my school environment as well. Golf has also given me the opportunity to give back to the community by volunteering as much as possible with the local clubs to assist younger underprivileged children to learn and appreciate the great game of golf.
Every round I play is a new challenge. I use the competitiveness and drive I gained from golf in the classroom. The more I practice the better I become. I implement this same philosophy when it comes to assignments in school. In order for me to improve in any subject, I have to study and do the work that is assigned because practicing will only make me better.
 Heading into college I'm seeking a program, that along with athletics, will provide a challenging education and a great experience.
I feel like I experienced a special kind of growth this past year when our team captain played her very last high school tournament. I realized that I had to step up and begin to lead our team through another golf season as we all possessed the desire to improve and help each other succeed this coming season.
Golf has taught me to never give up and that I should keep pushing through any adversity I might encounter until I achieve my goals. Participating in a sport that has a numerous amount of varying factors which can determine victory or defeat has taught me resiliency. I may not always win a tournament or shoot as low as possible but the good sportsmanship and ethics that I have learned from playing the game of golf taught me to never be discouraged and to always keep working toward my goals. Golf has given me so many wonderful opportunities and I would love to continue playing this sport for years to come. I think I will be an asset to any team both academically and athletically.