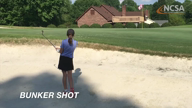 Personal Statement
My name is Lauren Martin and I live in Mooresville, NC.  I currently attend Mooresville High School (MHS) and will graduate in 2020.  I have a passion for the game of golf and would like to play at the collegiate level and maybe beyond.  
I have been playing golf for a little over 4 years and have a handicap of .2.  I played on the girls golf team for MHS my freshman year (2016) and had a 39.5 nine hole scoring average.  I was MVP of my team, first team all-conference, and was recognized for the 2016 All Charlotte Observer Girls Golf Team. 
As a sophomore in 2017,  we played in the I-Meck 4A women's conference where I have a 34.8 scoring average, won the conference tournament with a score of 73, won the Iredell County Championship with a score of 71, and won I-Meck golfer of the year. 
As a junior in 2018, I maintained a 36.3 scoring average, won I-Meck golf of the year, and was first team all-conference.
As a student, I am very motivated to maintain high grades.  I currently have a 3.69 overall GPA and plan on taking the SAT this December. I am very interested in science and technology but lately U.S. history has peaked my interest.  I also enjoy art and theater and strive to grow my artistic abilities.
Outside of high school, I am playing a schedule of around 15 tournaments in 2018 that consist of Peggy Kirk Bell Golf Tour and Carolinas Golf Association events.
I was the 2018 PKBGT Wolfpack Classic champion played at the Lonnie Pool Golf Course in Raleigh, NC with a two day total of 153.