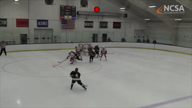 Personal Statement
Hello, My name is Brenna, I'm from Yarmouth, Nova Scotia.
Hockey has always been a huge part of me, from Saturday "Hockey Night in Canada", to Sunday early morning practices. I grew up in a hockey loving family. I've had many different types of hockey influence in my life. I grew up billeting junior players where I witnessed dedication, drive & determination. I learned the struggles it takes to balance education and athletics. Most of my large family of cousins and uncles also played competitive hockey. It seems to run through our veins.
From a very young age, I would watch my brothers games along with all of my junior player billet games. I wasn't one of the kids that would run around the rink; I would sit and watch to see what I could do to improve my game. This definitely helped me a lot with seeing the ice in my own games. I always know where my teammates are on the ice and are always there for them off the ice. I like to be there for my teammates, they are definitely a second family to me living away from home.
As much as I love the game of hockey, education is a huge part of my life as well; I love to learn new things. I love organizing and learning step by step  to get things done. If I feel challenged I will break it up into bite size portions and get to work. I never back down from something I may think is difficult and that goes for in the classroom and on the ice.
I would love to go to a college with a competitive hockey program but also a great education system. I would love to play at the highest hockey school for my ability but education does come first.