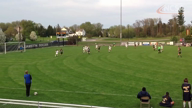 Personal Statement
When I step out onto the field, I feel right at home, and I can't help but smile as I look around and see my teammates who have become my family.
I discovered my passion for soccer from the day I first stepped foot on the field at the age of five. Since then it has been a fundamental part of my life.
I believe much of my growth and development over the years in character and attitude can be attributed to my involvement in the sport.
My coaches and teammates would describe me as a dynamic player with strong listening skills and the ability to use critical thinking skills quickly under pressure. I strive to always be a positive influence on the team and pride myself on being a team leader. Focus, teamwork, and dedication define my academic and athletic performance.
My goal is to join a division one or two soccer team and to continue my education by enrolling in a STEM major at a school that embraces diversity, positive environment, and a genuine interest in providing it's students the support and tools necessary to succeed.
With my impressive performance as both an athlete and academic achievements, scholarships in those areas would allow me to continue pursuing my passion.
Given this opportunity, I am ready to make the commitment and work passionately to reach my full potential as a student-athlete that my family, team, coach, and school will be proud to call their own.