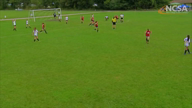 Personal Statement
My passion is soccer and has been since I started playing at the age of 3.  I am eager for the challenge of playing at a high level while pursuing my educational goals.
I work hard on and off the field.  My current strengths on the field are ball distribution and good field vision.  I have experience at every position as a starter on my club teams, including Keeper, Defense, Midfield and Forward.  I have worked hard to strengthen my shots on goal with both feet and have had success as a starter for my high school varsity team.  I also enjoy sharing my love of the game, and have had the opportunity to do that for the last few years as a camp counselor/trainer for our local youth soccer camp, Z's Skilz Zone.
I have the same determination in the classroom, working hard to maintain a high academic level.