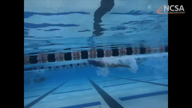 Personal Statement
Being the top medalist for the Cayman Islands National Team at CARIFTA was a highlight for me in my swimming career. However, my sophomore year, shaped me more as an athlete and person. That year I faced challenges in having poor performances that did not go as planned, heart breaks for missed cuts, which allowed me to grow my mindset and gain tools to apply to my mental game in swimming. These challenges while not enjoyable, were a blessing to my development as a swimmer.  I am extremely grateful for having had these tough times. They have provided me tools to adapt in COVID, be grateful for both my successes and failures in and out of the pool, and to focus on being a positive influence as a teammate. As a junior at The Bolles School, I look forward to helping our school win our State Championships as well as achieving our team goals this year.  
My family is a major source of inspiration and support for me.  I started swimming when my family moved from Canada to the Cayman Islands, where my mom started a swim club on the island. As a 6 year old I began what would now be my sport of choice. I followed in my sisters footsteps after years of watching her compete at the National Level, it gave me the hunger cheering from the stands to want to that one day too. Looking to the future, I am always keen to be a great teammate adding value, and give 100% of myself to achieve our team mission, with curiosity of what I will be able to achieve next. I am extremely excited for what I believe I will achieve this year and next in preparation for University.
I am thrilled for my next steps at University and continuing my strong academics in areas of study in medical or business.  My current academic goals are to continue to score at the top of my class and maintain or even improve my 4.54 GPA average. As an athlete I aim to be a teammate on a top swim program where I can add value to the team while continuing to develop as an athlete and individual.  This year in swimming, I am striving to achieve multiple US Junior National times (400/500 free, 200 free, 200 Fly, 400 IM), in addition to helping my team win States, keeping the Bolles Bulldogs streak alive! I look forward to meeting possible future teams, and getting to know everyone.