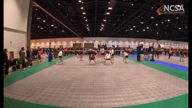 Personal Statement
Hi! My name is Kianna Stocks and I am a part of the graduating Class of 2022 at Willow Glen High School. I am a 5'7 Outside Hitter/ Opposite Hitter/Defensive Specialist. Volleyball has always been a major part of my life. My dad, my biggest role model, played volleyball for years instantly making me develop an instant love and desire for the sport at a young age. Volleyball easily became the sport I was extremely passionate about and wanted to pursue my love for the sport at a higher level. I have now played volleyball for 5 ½ years with the experience of both club and school volleyball. Participating in Premier, Power, Junior Varsity, and Varsity leveled play. 
On and off the court, my parents as well my coaches can agree that I am a very friendly, optimistic, and dedicated person/ player. Making it easy for me to build and create new relationships with my teammates and peers. My parents have always taught me that hard work pays off, especially in the off-season. I am excited and committed to do all that it will take to be a student-athlete at the next level. 
As passionate as I am about volleyball, I am also equally as passionate about my academics. Being enrolled into Honors and AP courses requires preparation, time management skills, and maintaining a greater focus. With the current pandemic, building good study habits during the school year helps manage my online education, family, and volleyball all in one. I have found it vitally important to ask various questions or to seek additional help early on if I find myself not understanding a concept. With that being said, meeting with my academic counselor every semester gives me the additional guidance to keep myself on track for college. Maintaining a GPA ranging from a 3.2-3.65. 
I am looking forward to being a part of a program that will provide me with opportunities and challenges both academically and athletically. Words cannot express how much excitement I have to begin this upcoming journey.