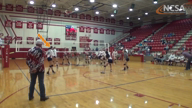 Personal Statement
Hi! My name is Darian Pate, and I have been playing volleyball for 7 years. I am currently a student athlete at Jim Ned High School in Tuscola, TX. My main positions are outside hitter, right side and defensive specialist, but I have played almost every position on the court successfully.
Being from a great military family, I have learned to be adaptable, outgoing, organized, and a team player. Due to moving so much with the Air Force, I have had the privilege to work with several different coaches and programs, and I am considered to be very coachable and versatile.
Two of my goals in the future is to play volleyball in college, and to graduate with a degree in Occupational Therapy. I am currently at the top of my class and I have a 3.8 GPA, and I am involved in the Honors AP courses at school.
I love to compete on and off the court whether it be academics or sports. With my dedication, versatility, world knowledge, and positive attitude, I feel like it will help me be an asset to my future college volleyball team.
Thank you for your time!