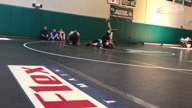 Personal Statement
My name is Arjun Khatri and I am entering my senior year at South Brunswick High School. I have been a dedicated member of our wrestling program starting from 4th grade. Through PAL, Middle School and High School Wrestling I have grown enormously mentally and physically. Making the varsity team my sophomore year was one of the most empowering experiences of my life and since then I have 35 career wins.  Entering the 2018 Greater Middle Sex County tournament I set a goal to place top 4. Unfortunately, I injured my ankle in the quarter finals and had to injury default out of the tournament and miss numerous matches after.  The rest of my junior year season was in question after the injury; but luckily I was able to return for the post season and become a district finalist. Overcoming adversity and dealing with conflict have always made me excited and I would cherish the opportunity to continue to my athletic career in college. 
Along with wrestling, academics have always played a significant role in my life. I plan to major in computer science while continuing my academic career in college. I understand that performing at a high level academically and athletically will be challenging but throughout my high school career I've always found it plausible to accomplish both. Competing during season has always helped me keep focused academically. 
I aspire to wrestle in college and to be part of a team, wearing the colors of a college and representing what they stand for has always been a dream of mine and would be an honor.