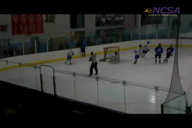 Personal Statement
Personal Statement of Mark Brower 8/5/11
As far back in my childhood as I can remember, I have always wanted to be an athlete. I have great large motor skills that allow me to be good at many sports. I have participated in organized basketball, baseball, racquetball, and hockey. I also play golf recreationally and love to skateboard and snowboard. Although I love all sports, I have chosen to concentrate on playing competitive racquetball and becoming the best hockey player I can be. I am six feet tall and weigh 175 lbs. I started playing hockey in my parent's driveway, using my older sister's Barbie skates, when I was only 3 years old. At 7 years of age, a school friend invited me to play roller hockey with him on the local club team. I not only made the 8U team with my friend, but I was also invited by the coach to play on the 10U team! That was the beginning of my true love for hockey.
At the age of 10, I began playing hockey for the Tri-County Cyclones at Kent State University Ice Arena. I played the wing and center positions each year throughout the "Bantam" age bracket. Beginning my freshman year of high school, I was a starting player on the Varsity Hockey team at Cuyahoga Valley Christian Academy. As a freshman, I was the leading scorer on the team, setting a new school record for the most goals in a season. I was also named to the All-Star Team for our division and was awarded the MVP for the year. During my sophomore year, the team added two new players, twin brothers, who played a lot of hockey together. They were a great addition to the team, helping our team win the Blue Central Division Championship. However, because they both played offense on the same line, my role on the team changed. I continued to play hard and finished as the third leading scorer for the division behind my two teammates. I continued to play wing and center for my freshman and sophomore seasons.
A change came for me my sophomore year when my coach suggested, based on my skating and stick handling skills and ability to "read the ice," that I should switch positions to defense. I loved the challenge of getting the puck from the other team then going for the fast break to score! I truly enjoy the position of offensive/defenseman. It allows me great opportunities to use my competitive nature, speed, and stick handling skills to my fullest potential every time I step on the ice.
I was both humbled and honored my sophomore year when my coaches and fellow teammates chose me to act as assistant captain; not many players have the opportunity to showcase their leadership skills that early in their high school careers. I have been serving my team in the position of assistant captain for the past three seasons, and I anticipate being named captain for this upcoming senior season.
My valuable leadership and "on ice" presence came to the forefront last year when I suffered as season-ending injury to my left clavicle. Prior to my injury, I was in the midst of a very strong season, and was leading the defensive line. My coach was very excited about the progress I had been making playing in my new position and anticipated that I may be named to the All-Star Team during my junior year. However, in December, I had a non-hockey related accident and broke my left clavicle requiring surgery that left me unable to finish out the season on the ice. Despite my injury, I went to every game and encouraged my teammates from the bench.
It felt good to offer words of advice and to help build confidence in younger players, even though I was unable to play myself. I was told by the observing parents and coaches alike that my "presence" was missing on the ice; I believe that my ability to see the play develop and create scoring situations for the team, is what they noticed was missing. Throughout the time I was injured, I watched our opponents carefully and helped some of my fellow players learn where to go and whom to watch on the ice. In a way, this was a valuable learning experience for me because I was able to see the full ice and evaluate the plays as they were occurring. I was able to share what I was learning with my teammates by applying my management skills and passing on my newly found knowledge to create a better team. In fact, the sophomore player who replaced me on defense was named to the All-Star Team. Afterwards, he thanked me for teaching him how to become a better defenseman. This was one of my proudest moments in my hockey career.
Now that I am recovered, I am taking every possible opportunity to get ice-time and play. I have been playing pick-up hockey this summer and will be playing on the Christian Youth Hockey Organization team pre-season. I am looking forward to having an awesome year of playing hockey for my high school senior year.
My ultimate goal after college is to coach hockey for a college, university, minor league or NHL team. In order to pursue that dream, I would like to attend a college where I can play hockey as a freshman and have an active roll with the team. I would like to be an Assistant Student Coach as soon as the opportunity becomes available. I would like to major in Athletic Training/Coaching, Exercise Science/Coaching, or Sports Management/Coaching at any college or university that would allow me to play hockey as a freshman. I would love to remain close to my parent's home in Ohio, because I know they would like to come to watch my hockey games. However, I am willing to relocate to any area that would allow me to participate in the sport I love, hockey.
I appreciate you taking the time to evaluate my abilities. I look forward to participating in hockey as I continue my education to reach the ultimate Coaching job.