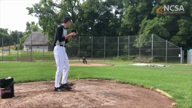 Personal Statement
College baseball drives my physical, social/emotional and academic development to earn my potential both on the field and off the field. Born with a ball in my hand and driven by my competitive nature, I've played three sports a year for 11 years.   
In Spring 2019,  I served as a starting pitcher and closer for my high school varsity program as a sophomore.  Highlights from travel ball included throwing a no hitter and a perfect game.  As a high school sophomore playing varsity, I was put in against an arch-rival with bases loaded and struck out the side.  

Next summer, I will play 17U travel ball for Diamonds 16U Prospects coached by Rob Hamly in Grand Rapids, Michigan. I am also playing AAU Basketball for the GR Storm as a forward. 
Since Kindergarten I've participated in the K-12 Spanish Immersion program taking all of my coursework in Spanish through sixth grade and continuing this rigorous pathway in high school taking two high school courses to become bilingual (Spanish/English).  
This Past Summer's Travel Schedule 2019:
June 14-16 Lansing Community College Tournament, Lansing, MI 
June 20-23 Adrian College Collegiate Clash Tournament, Adian, MI - Team won the tournament, pitched a no hitter at Adrian College.
June 27-30 Grand Valley State University Tournament, Allendale, MI
July 5-7 Saginaw Valley State University Ultimate Strike Zone Tournament, Saginaw, MI
July 9  College Baseball Prospects - Kalamazoo College, Kalamazoo, MI  (Pitching/Hitting)
July 11-14 The All Prospects Best of Great Lakes, Eastern Michigan University, Ypsilanti, MI
July 23-24 Top Prospect Showcase, Battle Creek, MI  (Pitching)