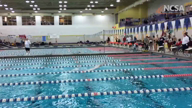 Personal Statement
I have been swimming competitively since the summer of 2009.  I have been swimming year-round with my club teams since 2012 and with my high school team since my freshman year in 2016.  I have many interests away from the pool but swimming is my highest priority. 
Swimming has taught me how to set goals and manage my time.  Swimming has given me focus and discipline.  I am coach-able and willing to listen to constructive criticism.  I am a leader for my peers and a positive role model for less experienced swimmers.  I am a dependable teammate and I am always working to improve. 
I look forward to continuing my swimming career at the collegiate level.  It is my ambition to attend a college or university where I can be challenged academically in the classroom as well as athletically in the pool.