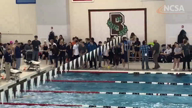 Personal Statement
As an athlete I would like to achieve collegiate accomplishments such as, bettering all of my times, but most importantly building a great relationship with my team and watching each-other go through the process of trying to get better together. The statement process over product is what I live by, yes I may get better or I may do worse, but how was my process going into the meet? Or how was my process going into the practice? Building a family that we can work together, practice together, cheer together and work together to make the team better and see each other succeed and grow, together!
 In academics I would like to succeed in majoring in what I have always been interested in, nutrition. After my time in college is up I would like to pursue a career in either being a swim coach or a nutritionist. I feel that nutrition will help me be a swim coach to be able to teach kids and swimmers what to eat and what not to eat. Nutrition is a big part of my daily routine and I know it helps me I'm in the pool and in daily life, supplying me energy and the right amount of power I need to help me inside and outside of the pool.
For any college team I would be a good fit because I love spreading good vibes and positivity anywhere with anyone and on any pool deck. I am not the party type of person, I prefer being a clean kid, the kid who the worst thing he does in college is Sunday cheat days in the dining common. I feel like I have been taught to be a good leader by my coaches over the years and have fit into every team I have been apart of.
Compared to every other recruit out there I fit in but one thing makes me stand out. My determination stands out, on my club team we live by the motto of, "what is optional!". Every optional set thrown at me I will attack like it is the last set I will ever do. Usually I will write my own drylands to do in the morning to give me that extra advantage over everyone else around me because "you have to be willing to do what others are not to be the best". I also live by the motto of "Why are you here?", which to me means, am I here to slack off and show a bad attitude or am I here to get in that water and give it 100% of my effort in every set I'm given. In academics I also do the same thing, I will always do extra credit, turn in every assignment given to me and never miss a homework. If I miss two days of school because of a swim meet,  I will stay up till one in the morning the next day to make sure every assignment I missed is turned in. I try to make myself stand out among the crowd of people who are just trying to make it into college, I want to do everything I can to get into college!