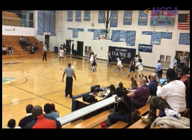 Personal Statement
My name is Tanzania Sherrill and I love to play basketball.  I am a senior at Hillcrest High School, and it is my objective to have my basketball talent discovered.   I plan on being awarded a full scholarship, that I may receive a free education, along with the added benefit of playing basketball.  I hope to major in criminal justice and pursue a career in law enforcement, possibly moving on to the FBI.  
I am certain that I will be a good candidate for any college team because I am a team player and take direction and constructive criticism well.  I am a shooting guard who is 5 feet and 9 inches tall, weighing 130 lbs, averaging 15 points per game.  I have been starting on our varsity team since sophomore year.  I was All State in 2013-14 school year, named 2013-14 South Suburban Conference Player of the Year, and was also named one of the top 50 girls basketball players in the Chicago area. 
I would prefer to go to school in Illinois.  However, I would be open to attending school in another state should I receive an offer.  I have a 2.5 gpa, and received a 20 on my ACT.