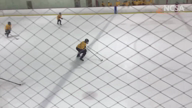 Personal Statement
Being selected for the USA Hockey National Camp was one of the best opportunities that I have been given. I was honored to be able to receive the chance to play with the best female hockey players at my age group from all over the country. Being selected for and participating at this camp helped me grow immensely as a player and person, and taught me so many lessons about work ethic, sportsmanship, and mentality, all while playing the sport that I love.
Ever since I started playing at the age of 5, hockey was a sport that I loved and enjoyed. As I continued to play, I began to take it more seriously and worked hard to play more competitively. My current goal is to continue to play hockey in college, as well as pursue a high academic degree.
Throughout all my years playing hockey, field hockey, soccer, and lacrosse, I have been taught many lessons that I will carry with me for life. I believe that the most important characteristics to have as an athlete are work ethic and determination. One of the most memorable mantras I always heard from my coaches growing up was to always have a will-over-skill mentality. I was always told that there will be games where an opponent will be faster, more skilled, or stronger than I am, but to still believe and work harder than them. I still carry this mindset with me today.
Hockey has also shown me how to treat my opponents, teammates, and coaches with the utmost respect, as well as how to always give a 100% effort into everything I do, both on and off the ice. I hope to bring my assets to a school that fits me both academically and athletically, and have a positive impact both on the ice and in the classroom.