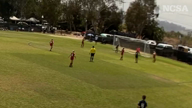 Personal Statement
My name is Selena Gallacher. I will graduate in the class of 2023 at Ridgeview High School in Redmond,Oregon. I have varsity lettered in three sports in high school. My first love is soccer, which is what I want to continue to play in college and hopefully my whole life. My second favorite sport is basketball. I have learned some of my best defense moves from playing on a court can be used on the pitch as well.  Competing in sprinting and jumping events in track and field (my third sport) keeps my body and mind fit.  I am All Conference 1st team for soccer 3 years in  a row.  
I have enjoyed playing club soccer for many years.  My current year round club team is Apex Futbol Club (under the Eastside Timbers) and I play 80% of the time in the middle of the pitch both attacking and defensive mid, and the other 20% I play center forward.  I enjoy playing lots of styles of play and guest playing on other teams.  It is always interesting and never stale to play for different coaches with different approaches to and different voices/goals.  I played center back for many years, and I have great vision of the entire field so I spend a lot of time on defense for other teams when I guest play.  I have been told I am an unselfish player, I look for the play that will get my team to score even when that means dishing the ball quickly to an open player and not taking every shot myself.  
My passions that I am excited to pursue and see what path takes me are my love of children, my love of travel, photography, cooking and tasting new dishes, my interest in fairness and justice for children/other people.  
Thank you for taking the time to read about me.  I look forward to meeting you.
Selena