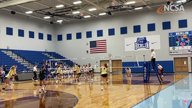 Personal Statement
  My name is Anna Lydia ("AL"), 5'11'' Outside Hitter. I am a passionate volleyball player and a true believer in teamwork! We win as a team and loose as a team. Once on the court I am competitive, passionate, driven and smart; you will find me cheering and encouraging ever player on our court. My volleyball journey started in Maryland where I was a Winston Churchill varsity player starting in 9th grade. In 10th grade our team made it to the State Semi-finals and this experience was awesome. My travel club year was intense, exciting and a true sisterhood on the court and off. The Maryland Juniors Black Elite teams taught me about amazing volleyball, strength, speed and fun. In 2020 our family moved to New Albany, OH and I am a New Albany Varsity Eagle- OH/6 rotation player – new beginnings and new adventures in volleyball. Learning to adjust, grow, make new friends has made me a better person and volleyball player. In 2022, when I go off to college, I will have some foresight about change and growth.
 My driven nature extends to my studies. I want to accomplish my dreams of finding my passion within medicine; whether it's becoming a surgeon, veterinarian or a doctor of sports medicine – time will tell.
 Something fun about me – I was born in Germany and I speak fluent German! My Mom is from New England and Dad from Switzerland.