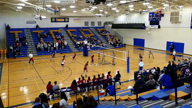 Personal Statement
My name is Jessica Obrigewitsch and I am a 5' 9" middle blocker and defensive specialist.  I currently attend Kennedy Catholic High School in Burien,  Washington.  I played all the sports, soccer, basketball and softball and then 8th grade year I decided to try volleyball and fell in love with the sport.  I am a well rounded player being able to play any position on the court, I even played setter for my club team one season.  I feel one of my best attributes is being a good teammate, by always working hard,  being supportive and leading by example.  I see myself as a fierce competitor and I always give 110% on the court!  
I was diagnosed  with ADHD at a very young age,  which explains a lot about my struggles with school.  My academics have gotten better over the years but there are still times when I struggle.  I have learned to not be embarrassed and I am still learning everyday to manage this disability.  I look forward to new academic challenges in college and I know if I put my mind to it, I can do anything!
Due to Covid,  I was unable to take the SAT or the ACT,  so I have no scores to report.    Also my 2020 club team season was cancelled in March and my high school senior season is yet to happen, I am hopeful  we will have a season in the near future.  
My sports stats will be updated in the very soon!!  I do have a 32" vertical which was taken at Ford Sports Performance  in May of 2020.