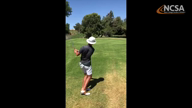 Personal Statement
I had just turned four when I held my first golf club and ever since then I haven't looked back. Golf has been a part of my life for over a decade now and is most definitely something I enjoy and strive to improve on.
I was 10 years old when I played my first nine hole tournament and since then I have never stopped playing. I'm currently a junior at Walnut High School and have been on the Varsity team since I was a freshman.Our team has made it to CIF every year since I've been here and last year was the first year we've ever made it past the first round. Outside of school I play many Toyota Tour Cup events as well as AJGA events.
Golf has taught me discipline and perseverance as well as many other life lessons. I've learned that in golf, instant success is very rare. That you must practice and be persistent in order to achieve the score that you want. Golf has also taught me to never give up no matter the situation. You are bound to make mistakes in both golf and in life, and perseverance is a very important character trait for you to be successful in life. It is determination at working hard regardless of any odds or obstacles that may exist. Playing golf at a collegiate level has always been a dream of mine and with my determination and work ethic, the sky is the limit.