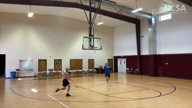 Personal Statement
It's always been my dream to play college basketball!!! The best offer for me to play the game I love and achieve my academic dreams is where I'd love to go.
I'm a hard worker and do my best at all times to be a leader to my teams and be a energy giver on and off the court!! I'm working hard to improve  my game everyday and my skills.
I'm different from most recruits by my positive and hardworking attitude!! The work I put in everyday to get better to and the work I put into my academics as well. I'm very dedicated to the game and always wanting to get better.