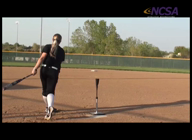 Personal Statement
Hello!
My name is Mikaela (Mik) Pechar. I have been playing softball ever since I was able to hold a bat.

I am modest and don't normally like to talk about myself, but I know what I am capable of.  My primary position is catcher and one of my greatest assets is a strong and accurate arm, which enables me to keep opponents base runners in check.   By nature I am loud and vocal on the diamond and communicate clearly with my teammates to ensure everyone knows the game situation.

I am a power hitter and feel most comfortable hitting in the middle of a lineup with the opportunity to drive in runs. There is no better feeling then when you get ahold of a great pitch and go with it---inside, outside, or down the middle. Give me the opportunity to put a bat on it---and I'll do my best to help my team.

I am a Student- Athlete. That means I give 100% in the classroom so that I can give my 110% on the field. I enjoy school. I'm looking for a college that will offer me an opportunity to strive towards academic success while participating in the sport I can never get enough of.

My parents, my coaches, my teammates. They're my support system, they're my family. They've always pushed me to be my best, I hope I can make them proud as I continue my athletic career at the collegiate level.

Thank-you for taking the time to view my profile!
- Mikaela