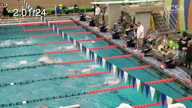 Personal Statement
I aspire to attend a university that allows me to pursue my field of study while also allowing me to swim competitively. Academics are critical as they will ultimately influence my professional opportunities. Swimming competitively after high school graduation has been a goal of mine from a young age. This goal has driven me to improve skills like time management while balancing academics and athletics.
Team goals are equally important to me as individual goals. Keeping a positive attitude is crucial, and I feel that my example has led my teammates into a similar mindset. I am extremely versatile in that I can swim a wide array of events ranging from a 50 free to a 400 IM.  
Honesty, reliability, consistency, and dependability are aspects of my character that I value. I am coachable, open to constructive feedback, and strive for excellence in all aspects of my life.