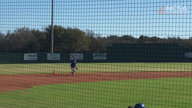 Personal Statement
I want to be the best baseball player I can be and find a college that I will enjoy, while getting a degree that will prepare me for the rest of my life.  
I am coachable, I have and can play any position that I have been asked to.  I am a good teammate that gets along with coaches and teammates.  I work hard and love to compete.  
I know the difference in right and wrong, I try to be around others that do as well. I have played every position in the field and hit 1-6 in the batting order on good travel teams and on my school team.
I am competitive in the classroom as well, I will do what it takes to succeed.