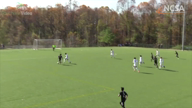 Personal Statement
At the age of 4, I remember getting my first soccer ball and kicking it around the house with my dad. When I was signed up for my kindergarten's recreational soccer team at the age of 5, I knew then that soccer would be the sport for me. Every time I step on the field, the thrill and love of soccer has remained constant. I desire to take my passion for the game on to the collegiate level. Playing in college would be a dream come true, and is an opportunity I would take very seriously.
For as long as I remember, my size and speed has set me apart from my peers. This resulted in my being recruited for a U9 travel club team at the age of 7. Since then, I have only played on the top club teams leading to my recruitment at DC United's MLS Academy. I am hardworking, very coachable, and constantly training to improve my skills. I believe my work ethic will showcase me as one of the hardest working recruits you'll find.
I'm looking for a program that will be a good fit for me athletically as well as academically. I believe I not only have the talent to compete for a college team, but the character, work-ethic, and leadership skills to make an immediate impact on your program. As a two-sport athlete, I know that I have what it takes to be the difference on your team!