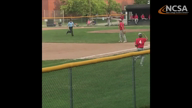 Personal Statement
Vermont H.S. baseball: Coaches' all-league teams for 2019 season
| BURLINGTON FREE PRESSUpdated 10:39 a.m. EDT June 20, 2019
Mountain Division
Players of the year: Dalton Cody, Williamstown; Nik Saborowsky, Enosburg
FIRST TEAM
Danville: Tito Chamul, Tim White. Enosburg: David Antillion, Jonathan Paquette, Nik Saborowski. Hazen: Finn Rooney. Northfield: Dylan Partlow. Peoples: Max Carr, Nick Holbrook. Richford: Sam Benoit. Williamstown: Dalton Cody, Carson Corriveau, Jacob Tassie. 
(Read below for updates) I have wanted to play major league baseball since I was four years old.  I try hard in everything I do and give it 100%.  I am on a traveling team and, although my school doesn't have a highschool baseball team, I play for a varsity team at a school nearby,  Williamstown High school.  I am a freshman in high school and am a starter for the varsity team.  Also, I play for an American Legion Baseball Summer program.  I was chosen as MVP for the Jr Cannons this season for 2017 and appreciate this very much. Baseball is a passion that I truly love!   
First team mountain division as a sophomore and 2 votes for player of the year! 
MOUNTAIN DIVISION
Player of the year: Brayden Howrigan, Enosburg.
FIRST TEAM
Danville: Travis Grosse, Matt Hauserman. Enosburg: Colby Geddes, Brayden Howrigan, Nik Saborowski, Noah Swainbank. Northfield: Zach McGinnis. Peoples: Joe Bounanno, Kristian Viljanen. Richford: Brandon Fuller. Williamstown: Dalton Cody, Nathan Poulin.
(Updated). I am now a junior in highschool and graduating class 2020.  I am in a technical career studying physical therapy and athletic training.  I am shadowing and interning and receiving a 3.7 GPA.  I was just awarded the Teachers Award for this last quarter. I played for Williamstown High School for the past 2 years and was the starting shortstop.  I was named first team in the mountain division as a sophomore. I was co-captain of my team as a sophomore. I played for the Colchester Cannons Jr program for the last two years and was MVP and Golden Glove.  I played for the Showcase League this past fall.  PBR said I have the chance to be a serious guy down the road. 
 I just finished my junior year of school and finished with a 3.72 GPA and inducted into the national technical honor Society and the national Christian Honor society.   I was just awarded co player of the year for the mountain division in the state of  Vermon  as well as named first team.