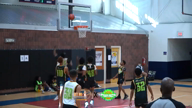 Personal Statement
Most recent season stats (averages, if available):
JV average
19 pts
6 Steals
3 asst.
Career highlights (awards/recognition that you've received):
Mid MD MVP 2018
Big time hoops MVP
NGS MVP
Big Shoots MVP
Do you plan on attending any showcases or tournaments this season? If so, please list name and dates:
Get me recruited Hot 100 3/16- 3/17
Adidas Jr. Gauntlet
NGS Hardwood classic 4/12- 4/14
Hoop group show down
MIT
Who has been your toughest competition? (Team or players)
Spire Institute
Melo
Rocket Watts
What are your goals for the upcoming season?
To win MIT and Adidas. Increase my pt avg and asst.
Describe your style of play. Do you model your game after anyone?
My style of play is fast pace and aggressive. Modeling my game after Ja Morant
Who is currently your favorite player in the NBA? Why?
DeMar derozan, I like his style of play and that he's the best player on his team and a great leader.
What kind of training do you do to get better as a player?
I goto open gym to do drills for dribbling all range shooting and run games. Also use theraband around dorm building.
What are you hoping to accomplish at the high school level?
Becoming a McDonald's all American. Lead my team to championship
What are your strengths as a player?
Defense, Finishing and good shot off the catch.
What do you need to work on?
Ball handling and Jump shot
Do you have any relatives that have played college or professional basketball?
No
Have you received any college offers or interest? If so, please elaborate.
No
Ideally, where would you like to play your college ball? Why?
North Carolina bc I like there program and I think it would be great to play for Mr. Roy Williams to enhance my style of play.
What are some of your interests besides basketball?
Animals, Food