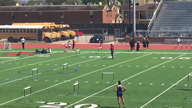 Personal Statement
When I began participating in middle school athletics, I knew that track would be a sport that I'd want to be involved in for the remainder of my years in school. As a 3, going on 4 year member of the varsity track team at Cypress Creek Highschool - competing at the collegiate level has been an aspiration of mine forever.
It'd be a dream come true to run, jump, and study biochemistry at a Division 1, 4 year university in Texas. I plan to dedicate this summer to getting my times down and increasing the length of my jumps so that I, in return, will be able to compete at the collegiate level by the beginning of my senior year.
I believe that I posses all of the qualities to make me a good candidate for any college team. I am committed, disciplined, and focused. I work hard on the track and in the classroom, I listen and receive advice well, and I'm a team player. Although a majority of the competitions in track are designated for one individual, events like relays require the full participation of every member in the race. I have had experience on relays like the 4x1, 4x2, 4x4, SMR and DMR. I know what it takes to be a good team player and I plan to express those features in college as I already do in high school.
Not only am I a good athlete, but I am also a distinguished student. I was recently inducted into the National Honor Society with a 6.0 GPA, (3.4 on a 4 point scale), I am a member of Mu Alpha Theta, and HOSA. My family and I value academics and believe that, "school comes before sports." I am intertwined with my community as I am a 6 year member of the National Charity League. Here, I served an officer position as the chapter's 2016 parliamentarian. This position has helped
me improve my leadership skills which are important to a team. I am also a 1, going on 2 year member of the Silverados - the drill team at my school acquiring over 60 girls. This has also taught me aspects of being a team player. I often stay after school earning hours for clubs, tutoring friends in different subjects, catching up on my own work, and then returning back to track practice. At the third practice of my day, (counting Silvies before school and athletics during the period,) I often try and perfect my triple jump skills. I work with my coach for about 2 hours correcting my form and working on getting further into the pit. My goal by the end of my high school career is to jump 40.0 feet.
I feel that all of the qualities and characteristics mentioned above make me a perfect addition to a college team. I hope that you will take them into consideration along with my athletic ability while possibly recruiting me for your team.